Concrete driveway design ideas are limitless and the images I am going to show you here, are to help inspire your concrete driveway design ideas.
Over the years I have placed and finished over 100 driveways and have seen a huge variety of concrete driveway styles and designs.
The images shown here are a collection of concrete driveway design ideas I have collected from the internet to help inspire you with ideas of your own.
Enjoy!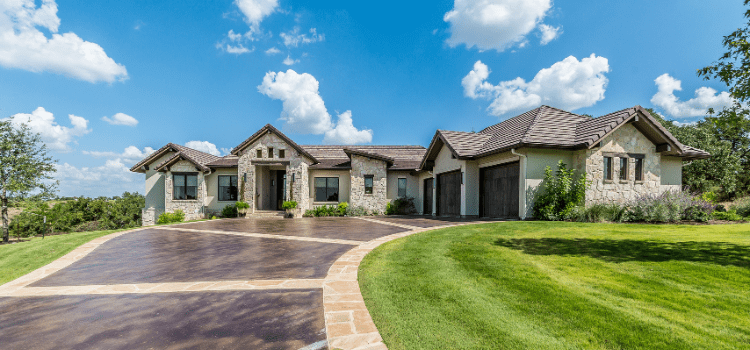 Concrete Driveway Design Ideas
Weather your concrete driveway design is simple or complicated, running through different types of concrete driveway design ideas for your own drive can often lead to that perfect driveway being designed and coming to life.
There are certain guides that I would recommend following when designing your concrete driveway, and before we get into the design process I would like to point a few of these out.
Guidelines When Concreting A Driveway
1 – All driveways should be at least 100mm thick and have footings ( Thicknings around all edges).
2 – All driveways should have steel mesh or fiber mesh installed for added strength.
3 – Stay off all new concrete for at least 7 – 10 days. Concrete Curing Time Chart Here <<<
4 – All concrete should have a solid foundation to rest on, soft foundations will lead to concrete cracks in the future.
5 – Ideally polythene plastic should be laid underneath the concrete first, this will stop moisture from soaking back into the concrete from underneath in future years to come.
Examples Of Concrete driveway design ideas
These are some great concrete driveway examples showing a variety of styles, curves, finishes, colors, and patterns of what you could potentially bring to your drive.
Concrete driveway design ideas can be inspired from other driveways, views, types of stone, color and shape.
If you are planning on designing your own concrete driveway look at lots of other driveways first to help bring ideas to life and to get more of a visual of what you might be after.
Depending on your area, you may want to keep within a color code, or type of finish put on the concrete, like stamped, or exposed concrete.
Circular Driveway Design Ideas
Circular driveways are up there with the more common driveway designs although you do need to have a fairly good chunk of land to install a large roundabout or circular driveway.
We can all agree that a turning circle as your driveway is the ultimate in convenience and is one of the most practical designs.
Although these circular driveway designs are simmilar, the convenience of having a turning circle at your front door or gate, is very handy.
All in all, circular driveways are placed the same as any other concrete driveway, so if you are after a certain concrete finish, like stamped or exposed, you can have this on your circular driveway design.
The three images or circular driveways are similar but offer the same convenience as one another.
Driveway Pavers Design Ideas
Driveway pavers are a great option if you don't mind the look, style, and flow that they offer.
In this example, the large pavers are separated by grass borders to isolate each concrete paver piece.
The design shown here is an excellent choice if you have many square edges in your home. With this separated paver style, there is more maintenance needed to keep it tidy ( Grass borders will need to be mowed)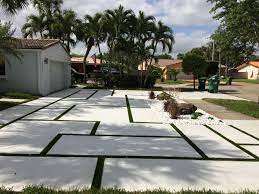 More Driveway Pavers Design Ideas
" As an Amazon Associate, I may earn from qualified purchases"
In between pavers you can have spacings filled with concrete, grass, or stone, or have no gap at all.
If you are on a budget, pavers can be made cheaply, or collected from second-hand stores, demolition sites, online marketplaces, garage sales, etc.
If you are not too fussy with color, you can grab different sizes and colors and create your own styled paved driveway.
Tips To Creating Concrete Driveway Design Ideas
There are many ways we can start creating concrete driveway design ideas and I have a few tips that will help you envisage your new driveway.
Being able to see the shape of your drive will help decide whether it will have the correct flow, feel, and practicality a driveway should have.
Use A Garden Hose Or Rope
By using a garden hose,
rope
, or similar, you can lye this down to represent the concrete edges of your driveway.
Curves and straights can be made with this method and altering your design on the spot is as easy as shifting the hose or rope in whichever direction you like to get the desired design of your liking.
View Other Driveways
Taking a drive and site seeing other driveways is sometimes all we need to spark a concrete design for your own drive.
Clear Unwanted Obstacles
It is always easier to envisage designs without the distractions of obstacles.
If possible remove any objects that could be in the way of your design area. This includes pot plants, cars, boats, trailers, or other vision-obstructing obstacles.
Try Your Design
Drive on your design to make sure it will be wide enough and is practical in as many ways as possible. If you are feeling like it is narrow if you can widen it. If a curve is too tight, try to make it wider.
Only by trying your design out will you be able to get the maximum out of your concrete driveway design.
Find Ideas Online
I know I have added a few concrete driveway design ideas in this blog for you but there are literally thousands of driveway photos online in every shape and form.
Don't be shy to do some exploring on Google.
Final Thoughts On Concrete Driveway Design Ideas
Potentially endless driveway design options, materials, finishes, and styles, knowing which one is for your home will come down to exploring ideas online, going for a drive, and looking at other drives in your town or neighborhood.
Investigating which style or design is right for you will come down to research, and then trying to replicate this on your property.
remember once you have an idea, try to picture it installed. Use a garden hose or rope to mark the outside edges as this will help envisage the drive.
I hope this blog has helped you find some concrete driveway design ideas for your home!