Many styles of bull floats for concrete exist, and over the years I have used many different brands and tested many different styles of bull floats. 
In almost all cases bull floats work just as well as one another, although there are pros and cons to the different styles if you are using bull floats on a constant daily basis.
Bull floats are an essential part of the concrete placing process and as we go over some of the different bull float designs, I will point out some of the pros and cons associated with each unit.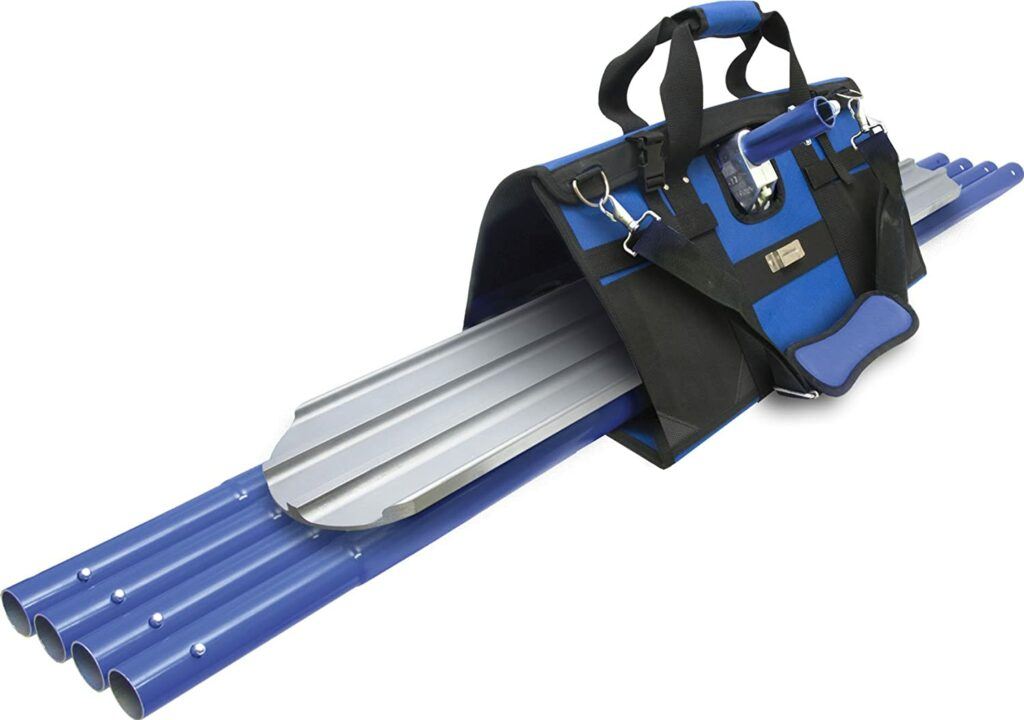 "as an Amazon Associate, I may earn from qualified purchases"
Best Overall Bull Floats For Concrete
These bull floats for concrete have proved the test of time and have all sold thousands of units worldwide.
Each unit is available on Amazon.com and available for order online. They all have many positive reviews and are work great for any concrete project that requires bull floating.
These brands are all highly respected in the concrete industry and are definitely worth considering when buying your next bull float for concrete.
| Product | Product Name | Star Rating | Overall |
| --- | --- | --- | --- |
| | Concrete Finisher's Tote Kit 48" Float | | |
| | OX TOOLS Pro Series Aluminum Concrete Bull Float | | |
| | Concrete Bull Float 48" With Rock It 2.0 Bracket | | |
| | VEVOR Bull Float Magnesium Concrete Float | | |
| | Marshalltown Concrete Bull Float 48 X 8 Magnesium | | |
Bull Floats For Concrete Information
As we take a look at these different bull floats for concrete individually I will point out the main differences and mention some of the pros and cons associated with each unit ( If any ).
Each and every bull float is unique, and different in its own way although there are a select few that have proved their worth, and knowing this helps you find the next best bull float for you and/or your business.
1 – Marshalltown Concrete Finisher's Bull Float Tote Kit 48″ 
With over 337 review ratings this Marshalltown concrete bull float kit is perfect for the everyday concrete placer, and being made from Marshalltown, quality is assured.
Product Details
Round End Blade

Pole 1 3/4 diameter

Comes with BF9 Rock-It 2.0 Bracket

A convenient solution to carrying your Bull Float and Poles in one convenient package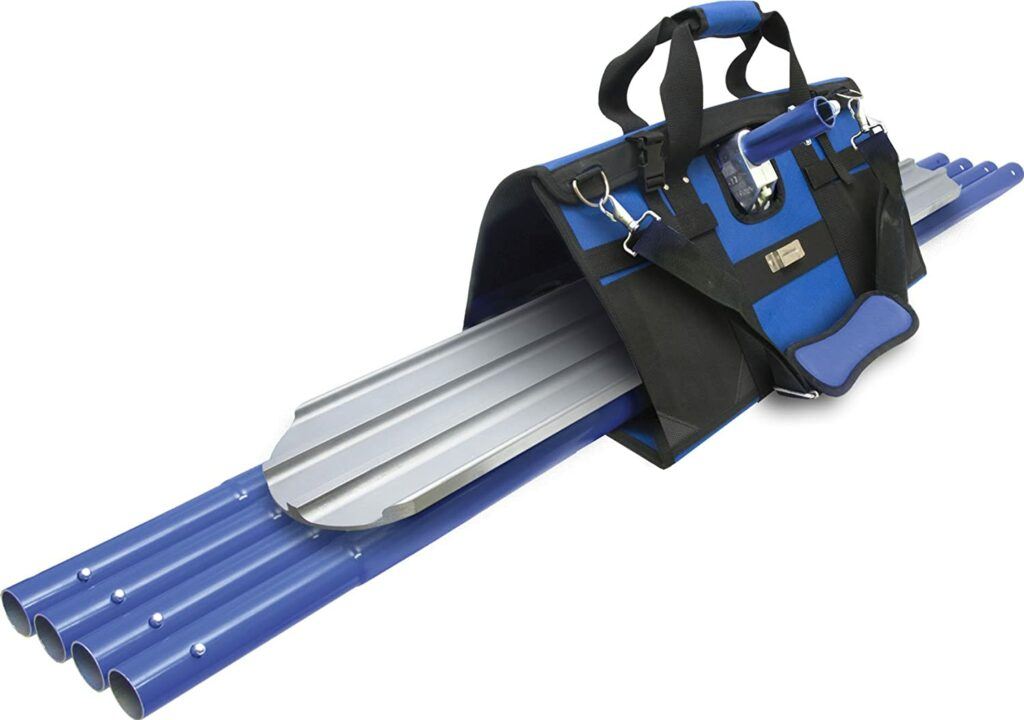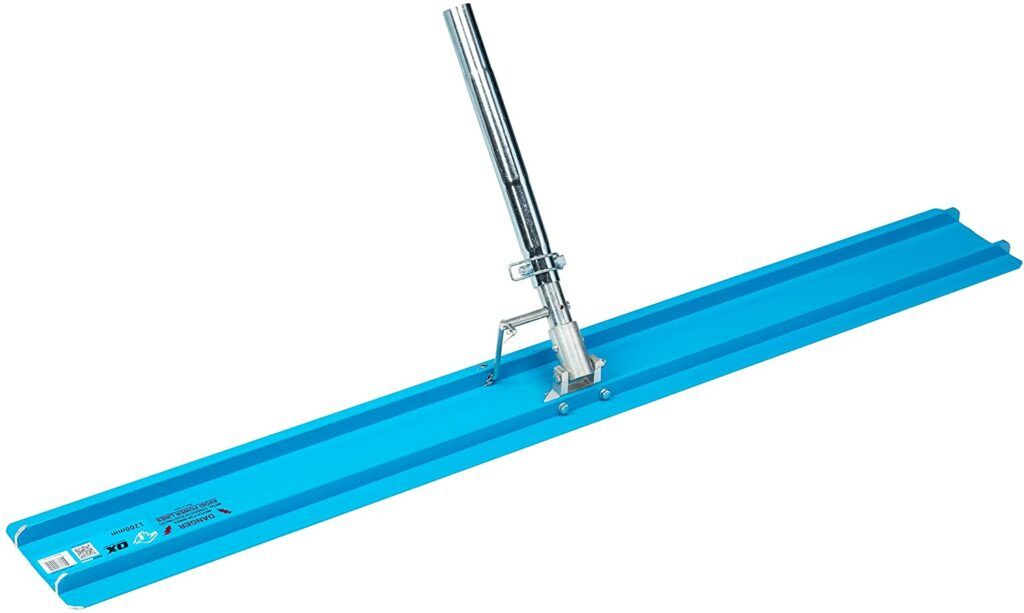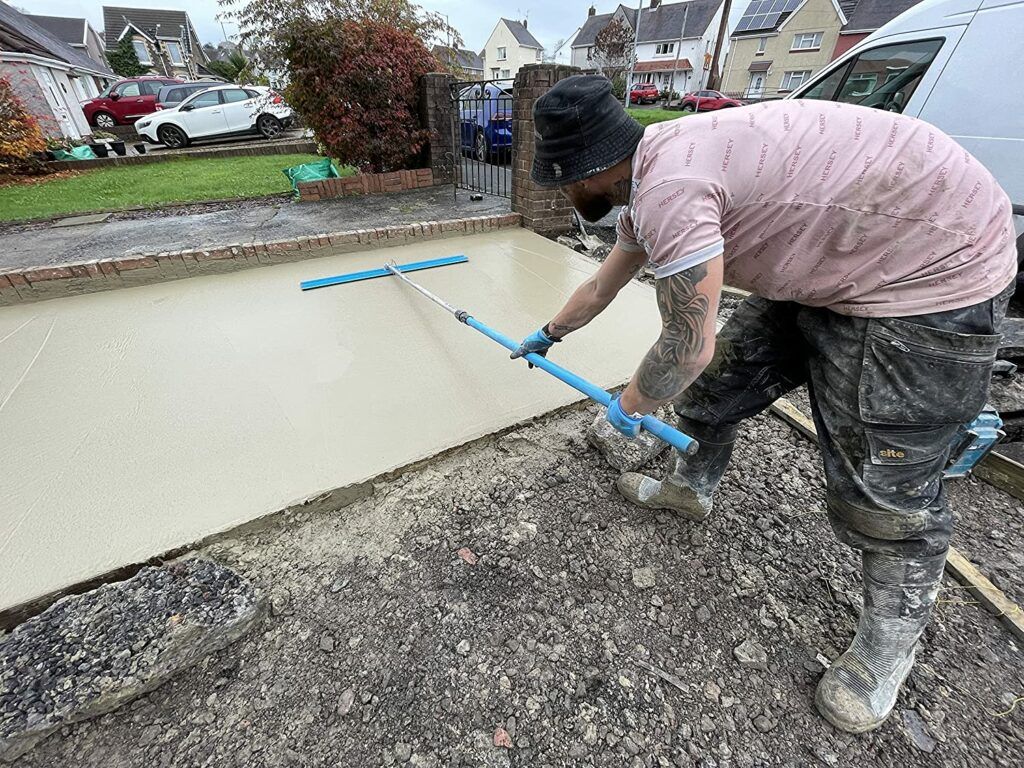 2 – OX TOOLS Pro Series Aluminum Concrete Bull Float
This is the same bull float I have. I have used it for many jobs and has never let me down.
Nice  to use, smooth, and easy to maneuver this Ox bull float is a great price and will do perfectly for any concrete placer.
Product Details
DURABLE – Made of heavy duty structural alloy, meaning it is extremely light weight and very maneuverable.

STRENGTH – Extruded ribs for extra strength and reduced bending.

ERGONOMIC – Tilt mechanism quarter turn for minimal wrist motion – significantly reduced user fatigue.

EASY TO CLEAN – The powder-coated finish makes this float extremely easy to clean.

PERFECT FINISH – Curved surface for the perfect finish and easy gliding
3 – Marshalltown's Concrete Bull Float 48″ With Rock It 2.0 Bracket
Another quality product from Marshalltown with almost 200 reviews this concrete bull float is made to last and has a very promising 4.7 / 5 stars review rating.
Product Details
Lightweight, long-wearing

It comes with a round end

Includes rock-it 2.0 bull float bracket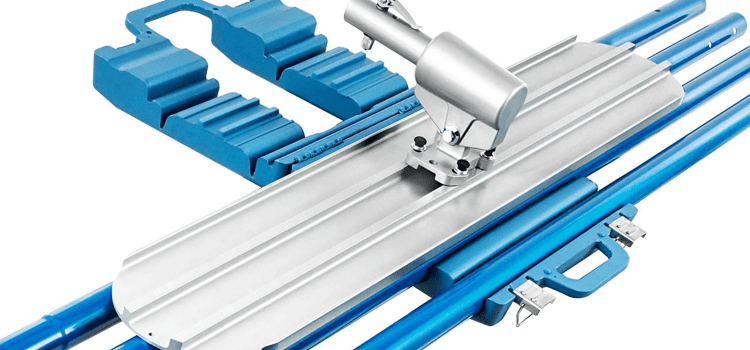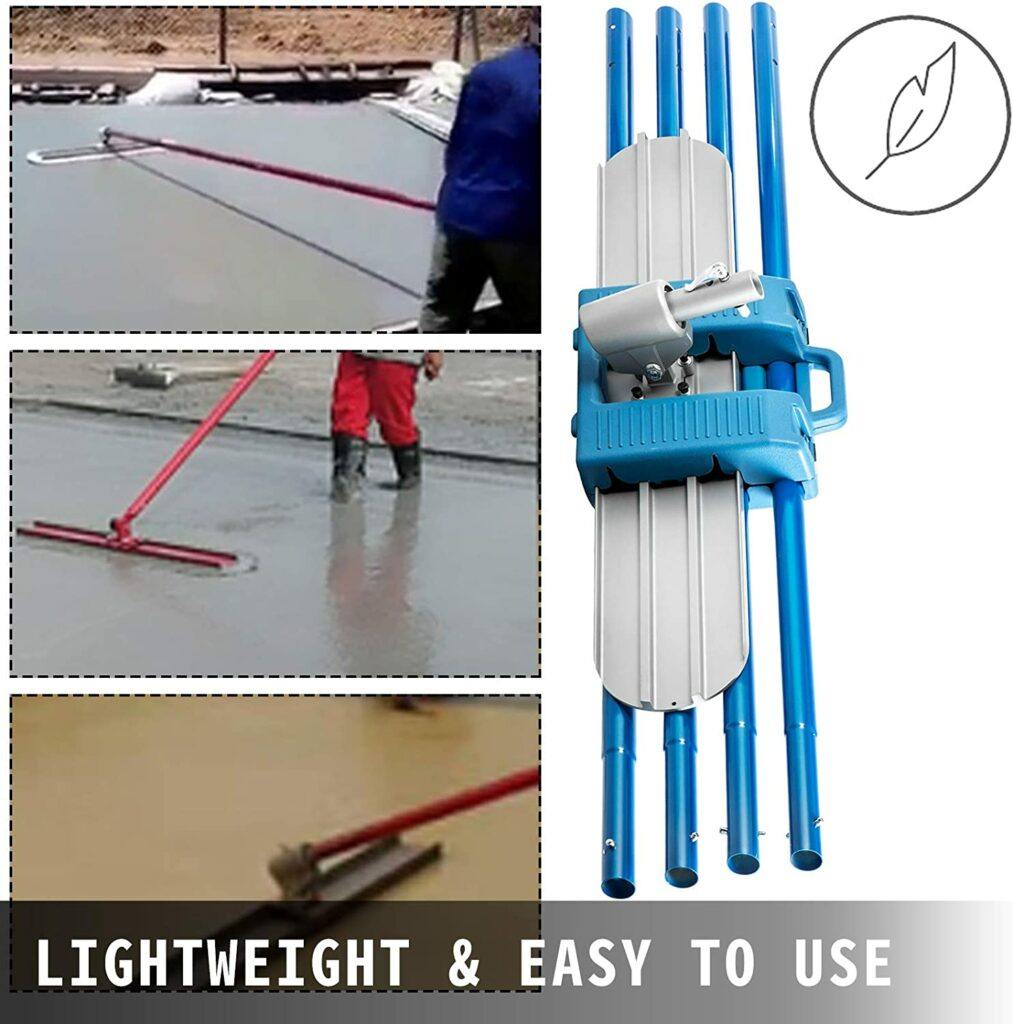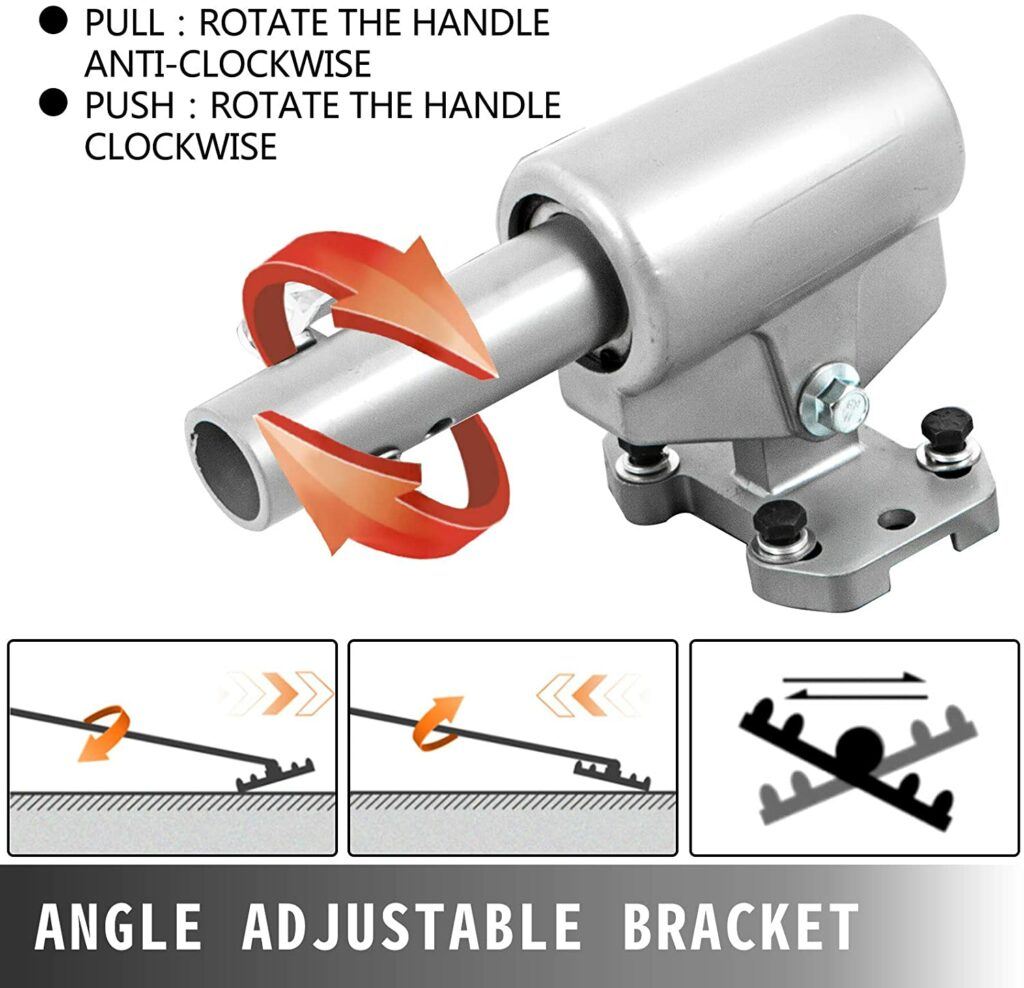 4 –

VEVOR Magnesium Concrete Bull Float 48 x 8″ Round End 
Never used this set personally but with an average review rating of 4.2 / 5 stars and loads of positive comments, this is a great all-around concrete bull float set that is sure to impress.
Product Details
Premium Quality: The surface of the trowel board, made of magnesium and aluminum alloy, is smooth and sturdy. An extruded float with a comfortable blue-coated aluminum handle that is positioned to give the tool perfect balance.

Excellent Efficiency: This concrete bull float has a thickened trowel board. Its unique round-end design will not warp, or roll up the cement, and can float a large area of about 48×8 inch / 1200×200 mm each time, significantly increasing the work efficiency, saving labor force and time, and reducing fatigue.

Adjustable & Flexible: There is a bull float bracket to connect the handle and the trowel. It is designed to be adjustable in the angle and with excellent flexibility in pushing or pulling the handle to make a smooth finishing cement surface. Turn the handle clockwise to push; Turn it counterclockwise to pull. The rigid mounting base and reinforced side panels increase its stability.

Full-set Equipment: The concrete float kit is equipped with a finishing trowel, a bracket, a rigid mounting base, side panels, four handles (each handle with a length of 1.8 m), and four screws. To organize your tools conveniently, we also offer you a specially designed square plastic tool bag. The concrete trowel kit can be used in all types of concrete finishing work.

Various Applications: Our concrete finishing tools are mainly used for smoothing and finishing after the construction of cement pavement. With its light, flexible, efficient, and fast characteristics, widely used in plaster, concrete resurfacing, custom tiling jobs, and different DIY projects, etc.
5 – The Marshalltown 48 X 8 inch

Concrete

Magnesium Bull Float  
A good 4.4-star average customer review, once again a Marshalltown brand, a very simple design.
This is a good all-around bull float with a teathed locking system that in my opinion is the least preferred fitting but still works well.
Product Details
Extruded magnesium alloy blade material

48″ Square End Shape

Made in the USA with Global Materials

Teathed Clamp Pole Attachment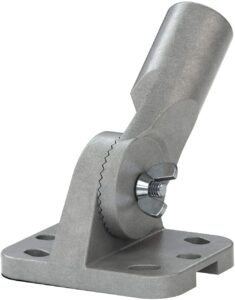 Choosing The Right Bull Floats For Concrete
As mentioned earlier, almost all bull floats work the same, and 98% of bull floats will give you the same finish as one another, however, if you are working with concrete on a daily basis, I would recommend the rock-it-styled bull float fitting as this is more adaptable, easy on the wrists, and more versatile when moving around obstacles like pipes, boxing, or obstacles of any kind. 
When Choosing The Right Concrete Bull Float…
Bigger or longer is not always better. Moving around obstacles in house floors like pipe work etc can be super annoying with a large bull float. If your concrete around obstacles often a smaller bull float on hand will be of use.
Heavy bull floats can get ultra heavy after 10 hours of concrete placing…if you are working with larger pads more often than not, choosing a lighter bull float and pole set up can be beneficial.
The fixed bull float to pole fittings is less user-friendly, especially for curved concrete surfaces.
Concrete Bull Float Handles
After reading loads of customer comments and questions, finding the right handle, or more specifically the bull float handle adapter, seems to be somewhat of a nightmare.
The handle attachment for the Ox bull float seems to be a hard one to find which is not conveniant at all…
Main Bull Floats For Concrete Handles
In most cases there is only 2 different kinds of poles and pole attachments.
Depending on the brand, these are the main type of bull float poles and will fit most bull floats. 
For the telescopic poles like the OX handle, you will need the pole to bull float adaptor which can be purchased from one of the two outlets listed above.
I hope this has helped narrow down your search for your next concrete bull float.
All of the above-listed bull floats for concrete have been used, tested, and stood the test of time when it comes to placing concrete.