The concrete trowel as we know it is a hand tool made from stainless steel and is used for a variety of concrete uses and finishes.
Different designs of the concrete trowel have been specifically designed for specific purposes.
In this blog I will discuss the types of concrete trowels there are, and explain their uses.
What Is A Concrete Trowel?
A concrete trowel is a nonmechanical hand tool that is used in the finishing process of concrete.
Although there are many different styles of the trowel, most of them consist of a flat stainless steel plate, and a handle.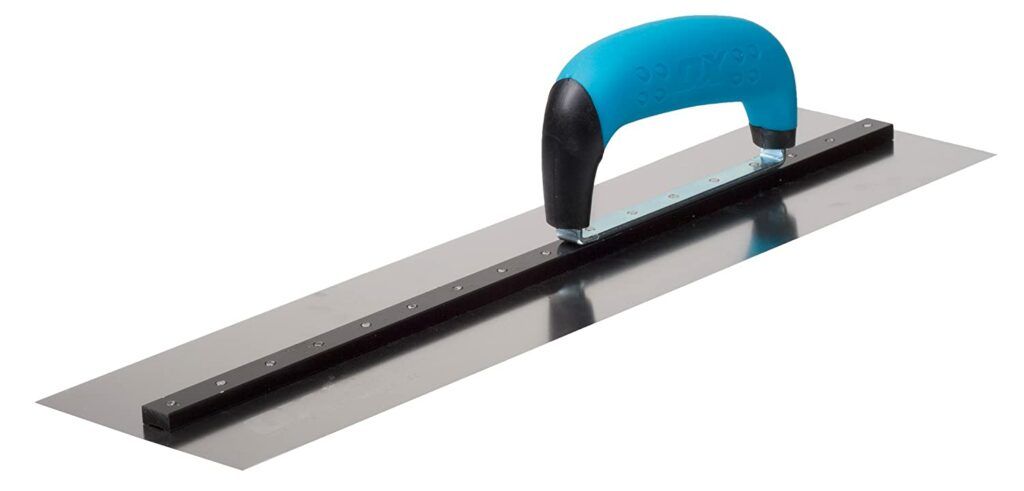 "as an Amazon Associate, I may earn from qualified purchases"
For finishing concrete there are 5 main types of concrete trowels.
Almost all consisting of the same overall design, the concrete trowel is very versatile and is used in a number of ways, including walk-behind power trowels which are motorized and are run on fuel, or power.
Here are 5 styles of the concrete trowel, and a little info about each one.
1 - The Marshalltown Concrete Finishing Trowel - Square End
The Marshalltown Square end concrete trowel is a popular trowel that is commonly found in all concrete placers' tools list.
Marshalltown is one of the most highly respected brands when it comes to concrete tools.
Quality tools that are made to last, this square-end concrete trowel fits into corners like a charm and lets you get that smoother finish in corners or around edges.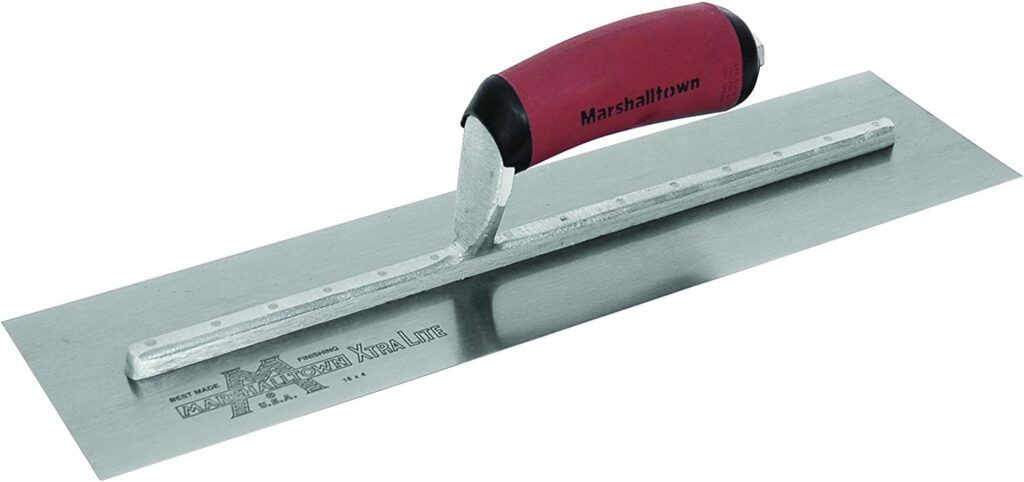 The Marshalltown 16 X 4-inch finishing concrete trowel has a curved DuraSoft handle and is a premium quality finishing trowel that uses hardened carbon steel to promote long useable life.
The Aluminum alloy mounting is riveted ensuring a tight mounting-to-blade fit.
The Diamond shank prevents the handle from twisting. 
Pros
Quality made product
Highly respected brand
Popular choice
Great for concrete finishing, smooth or fine texture
Good value
Cons
Limited without one round end
Could be longer
2 - The Kraft Swedish Stainless Steel Pool Trowel ( Round End Concrete Trowel )
Known as a pool trowel or round end concrete trowel, this is a great tool if you do not have corners to trowel into.
The ends of the trowel are great for curved edges like some swimming pool corners. The round end trowel provide both an excellent smooth finish on your concrete and is very useful for many curved inside edges.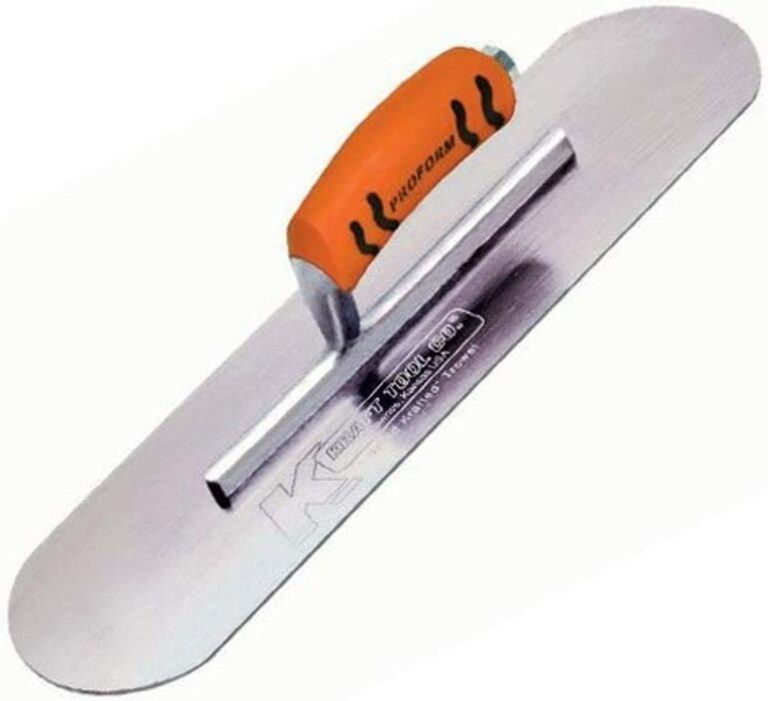 Ron Meyer and Si Kraft established Kraft Tool Co. in 1981 and since then has been built into a multi-million dollar company supplying tools of all kinds to people all over the world.
Pros
Quality made product
Is a Popular choice
Great for concrete finishing, smooth or fine texture
Good value
Cons
Limited without one round end
Could be longer
Handle not as comfy as Marshalltown
3 - Marshalltown Concrete Finishing Trowel 16 X 4 - Round Nose
My personal favorite, the Marshalltown concrete trowel is up there in my favorite top 2 trowels.
Quality steel, quality made, Marshalltown concrete trowels are simply the best trowels ever made.
The round nose concrete trowel is great for all trowel work and the different shape ends offer versatility for almost every job.
If you are in need of a new trowel…This is my recommendation.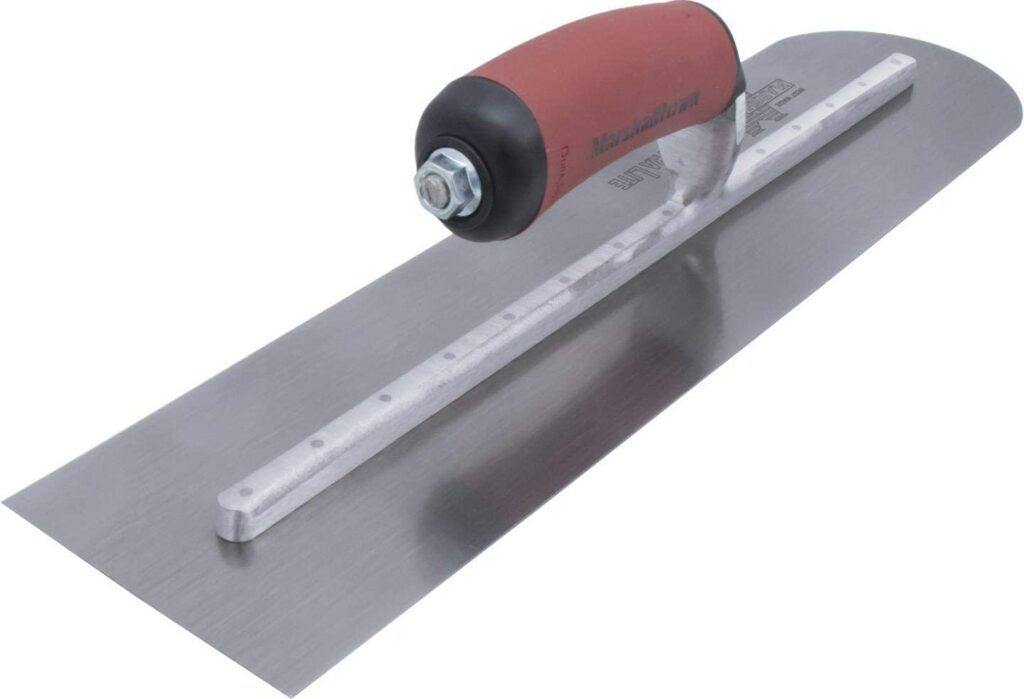 One of the more comfy handles the resilient DuraSoft handle provides a soft feel, reduces fatigue, and offers excellent durability.
Made from the highest grade hardened and tempered spring steel with the blade properly shaped, this is one well-made and well-respected concrete trowel.
Pros
Quality made product
Most popular choice
Great for concrete finishing, smooth or fine texture
Good value
Comfy handle
Cons
None! This is one great product
4 - The Bon 36-Inch by 5-Inch Round End Spring Steel Fresno Concrete Trowel
These Fresno's or otherwise known as a push-pull trowel, or pole trowel, are used specifically for troweling concrete pads early and without the need for kneeboards ( Depending on the size of the job ) 
I have used this tool on many cow lanes, footpaths, patios, and driveways to help speed up the curing process, and speed up the overall finish of the concrete, depending on skill level, this trowel can be very beneficial for most concrete placers.
The Bon 36-Inch by 5-Inch Round End Spring Steel Fresno Concrete Trowel includes a Rock N Roll Bracket, which is my preferred mounting system. 
This professional concrete tool maintains the standards of workmanship. Giving a nice finish to various concrete applications.
Pros
Great for concrete finishing, smooth or fine texture
Good value
Rock-n-roll handle mount
Durable stainless steel
Cons
 Can take some practice
Can get hard on the wrists when concrete gets dry
5 - TOMAHAWK 36" Concrete Power Trowel, Gas Power 5.5 HP Honda Engine
Used all over the world, the power trowel has 4 times trowel blades and loads more weight, meaning this will smooth concrete better, harden the concrete surface better, and if desired, burn the top of the concrete to get that glass/marble effect.
Also known as a kelly float, these machines can save you loads of hand troweling, and loads of strain on the wrist from hand trowling, plus you will more than likely get a better, harder, and smoother finish on your concrete.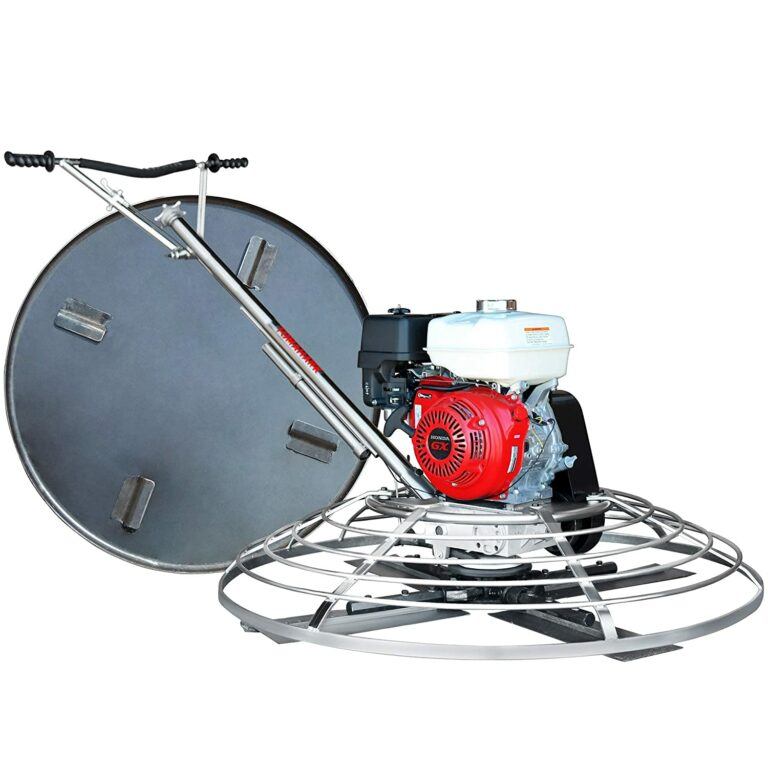 Detail on this model
Powered by the 5.5HP Honda GX160 Engine with a 3-year warranty

36-inch working width includes blades and float pan

Blade pitch control adjusts from 0-28 degrees

Operate close to walls, edges, and corners with an independent rotating flywheel

4 combo hardened, steel blades designed for both float and finish operations
There are two main types of power trowel blades.
Finishing blades
Combination blades
Both blades are great and achieve a high standard of finishing, however, combination blades are more designed for the floating and moving stage of the finishing process, and finishing blades are suited more for a higher pitch use to get a harder, smoother finish.
I have used both blades for over 14 years and both blades will work great for all types of finishes, don't stress on which blades to get, although if any I would recommend the combination blades…they seem to last longer, and are a great all stage finishing trowel.
Cleaning Your Concrete Trowel
Cleaning and storing your concrete trowel in an appropriate place will ensure you get the most out of your concrete trowels for many years to come.
Tips to keep your concrete trowel good
Wash your concrete trowel after every job, washing in between uses during the job is always advised on hot days, this goes for all concrete tools.
There is nothing worse than troweling concrete and seeing long groves or lines in your trowel line. Be careful not to chip the edges of the trowel.
If your concrete trowel does have chips in it, use a metal file to get them out, a small file is easy to store in the work van or truck and can make all the difference in your troweling, especially if the concrete has almost dried and there is not much movable slurry.
Careful not to trowel into boxing pegs, waratah, nails, etc…
I hope this has expanded your knowledge in the concrete trowel area and further helps narrow down your choice in ordering your next concrete trowel.
Other related blogs…