Concrete cleaning machines are a must-use if you are going to refresh your concrete patio, driveway, path, or any other kind of concrete surface.
Depending on the type of concrete you have, you may need to be specific about the kind of concrete cleaning machine you need as some designs are specifically made for specific types of concrete.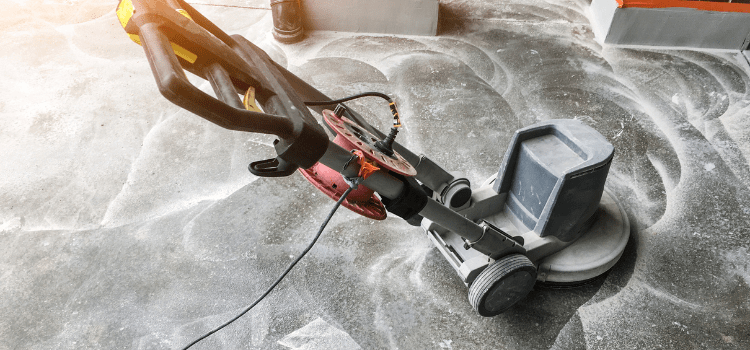 Why Use A Concrete Cleaning Machine?
By using a concrete cleaning machine you will get better results than if you did it by hand and used a hard bristle scrubbing brush, a bucket of hot soapy water, and a whole lot of elbow grease.
You will get a deeper more penetrating clean by using a concrete cleaner, not only that, your concrete will look more unison and less patchy, this is because the cleaning is more in-depth and even when machine cleaned.
Why Use A Concrete Cleaning Machine?
Achieve a more unison finish with less patching.
They are surprisingly easy to use after a short practice.
Your finished concrete will look better than if you did it by hand.
Cleaning with a concrete machine will penetrate deeper and remove more grime and gunk.
Faster and superior to hand washing.
Household And Homeowner Concrete Cleaning Machines
For the standard homeowner that just wants to clean concrete around the home, yard, shed, or office, and not commercial buildings, there are a few options for you.
one of the best by far, and with very high reviews is the GENERAL PUMP  20″ 4000 PSI HAMMERHEAD PROFESSIONAL PRESSURE WASHER SURFACE CLEANER which is available from ToolBarn.com.
Made with quality in mind, almost all reviews speak of the high quality as well as compare it better to other concrete cleaning machines they have previously used in the past.
The Generial Pump 4000PSI Hammerhead Concrete Cleaning Machine
About This Product:
Get great results with the General Pump DCFSCP20GZ 20″ flat surface cleaner!
This unit features a greaseable zerk and serviceable swivel for longevity, and the compensating spray gun helps to reduce arm and shoulder fatigue.
The rugged ABS cover resists corrosion, and a stiff spray skirt of 2″ bristles reduce overspray.
Up To 4000psi
Up to 180* Water Temp
Compensating Gun Feature
Full 20″ Cleaning Path
Heavy-Duty Anodized Aluminum Components
Rugged ABS Cover
Swivel has a grease zerk for bearing lubrication.
Requires 3GPM Minumum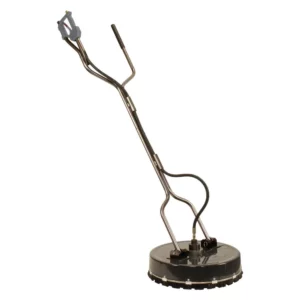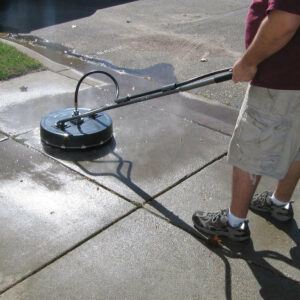 Twinkle Star 15" Pressure Washer Concrete Cleaning Machine
About This Product:
The Surface Cleaner can be used with most gasoline-pressure washers with up to 4000 PSI, and a minimum pressure of 2000 PSI.
This concrete cleaning machine can be used on horizontal surfaces like driveways, patios, sidewalks, etc.
Use on vertical surfaces like brick walls, stucco, and other sidings (Always test in inconspicuous areas first. The Surface Cleaner has not been designed for commercial use.
Package Includes: Pressure washer surface cleaner attachment included: 1 x 15-inch stainless steel surface cleaner, 1 x 15 extension wands, 2 x replacement nozzles, 4 x O-rings, 1 x thread seal tape, 1 x nozzle cleaner. 

More Effectively: 15-inch Surface Cleaner has dual pressure water jets that spin rapidly breaking up dirt and grime without streaking or striping surfaces. 

High Quality & Good Compatibility: Heavy-duty bearing and durable stainless steel construction can be used for a long time. A filter is built into the entrance to prevent the blockage of impurities. 1/4″ Quick plug. Easy to connect with included pressure washer lance or other 1/4″ quick connect fitting. The Surface Cleaner can be used with most gasoline pressure washers.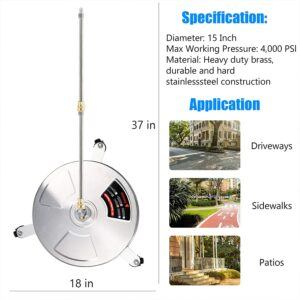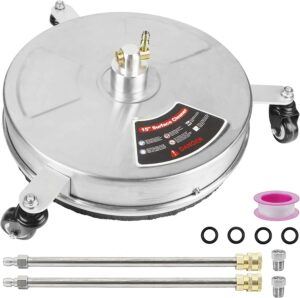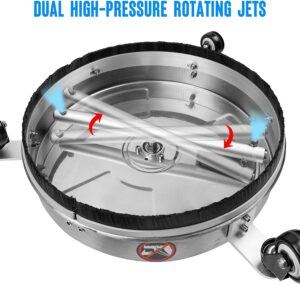 Commercial Concrete Cleaning Machines
For commercial concrete cleaning, I would recommend something with a little more power, a lot more grunt, and made for larger areas.
Commercial concrete cleaning machines range from entry-level commercial, right up to the most advanced concrete cleaners money can buy, and although the price tag on some of these may be on the expensive side, the money that can be made from using these bad boys will have you wanting a second one to keep up with demand.
The "Cyclone 20 Inch commercial concrete cleaner is perfect for the pro concrete cleaner right through to the large concrete cleaning industry
CYCLONE 20" 3500 PSI FLAT SURFACE AND CONCRETE CLEANER
About This Product:
Pro / Industrial
Reduced overspray
No zebra striping
Rust and corrosion-resistant, durable polyethylene housing
Vibration absorption for easy management and less stress on the operator
Collapsible handle for convenient storage
Concrete Floor Cleaning Products
Pressure washing with a water blaster, concrete cleaning machine, or any other industrial concrete cleaner, cold water, and/or hot water may not be enough to penetrate deep into the concrete and lift out stains from grease, oil, and grime of any kind. This is why we have specific products designed to help out with removing though stains.
CHOMP! Concrete Oil Stain Remover
Chomp! Pull It Out Concrete Oil Stain Remover is a deep penetrating formula that lifts, cleans and removes oil and grease stains on driveways, garage floors or even a parking area caused by drips from a car or truck.
Because it is convenient and easy for anyone to use, this cleaning solution is great for both DIY and professional use.
Pull It Out Concrete Oil Stain Remover provides exceptional oil and grease stain lifting from porous surfaces. The stain remover is effective on oils and petroleum-based stains (transmission fluid, brake fluid, etc.) commonly found on concrete and paver driveways, garage floors, parking areas, and drive-through lanes. 
Chomp! Pull It Out is simple and safe to use.
More Concrete Cleaning Stain Removers
More concrete stain-removing products that are proving to be crowd favorites.
Other Commercial Concrete Cleaning Machines
Although the Cyclone concrete cleaner is recommended there are still many more options one can look at when buying commercial concrete cleaning machines.
Here are some more commercial concrete cleaners that have great customer reviews and are for pro/industrial use.
USA-CLEAN X26R Ride-On Auto Floor Scrubber Machine
USA-CLEAN X26R Ride-On Auto Floor Scrubber Machine, 26 inches (750mm) Cleaning Path, Industrial Commercial Use, Large Tank Capacity, Battery Powered Quie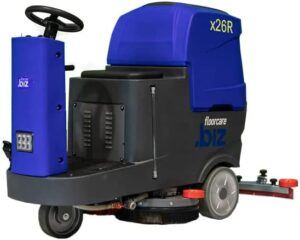 x20B Walk-Behind Battery Auto Scrubber
Ease and Reliability
When it comes to ease and reliability, look no further than this 20″ floor scrubber. With a 20-inch cleaning path, it can handle even the toughest messes. The brush and battery charger are included and it is ready to use right out of the box. The operator interface is simple and the breakaway squeegee design requires no tools to change. This battery-powered floor scrubber makes cleaning easy!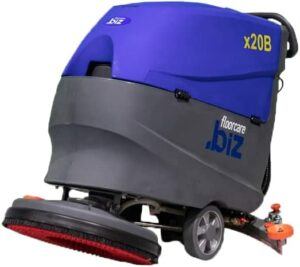 Prepping Your Concrete Before Using A Concrete Cleaning Machine
Prepping your concrete before using a concrete cleaning machine is vital if you want to save time and get the best result for your concrete.
A little prep work can go a long way!
Quality concrete crack filler can be used on concrete cracks after the cleaning has been done, finished, and dried completely.
How To Prep Concrete For Cleaning
Remove any or all objects that will obstruct ease of movement with your machine. You do not want to be getting on or off your machine to move items that are in the way, clear your area first.
Spray stains with a quality concrete stain remover prior to using your concrete cleaning machine.
Will your machine be able to get into the internal edges or corners, if not, you may want to scrub or pressure blast the hard to get places first.
Most concrete cleaning machines contain most of the water they spray out, however, there is still a lot of water to drain away, make sure drains are clear and unclogged.
Always have a rag or cloth on hand to wipe down any after mess ( If Any )
Check the machine and fixings over before you operate.
Best Concrete Cleaning Machines
Finding the best concrete cleaning macines for your business can be an expensive and stressful time, however, if you read peoples reviews, look over the machines properly, and identify which one best suits your needs, you will find the winning product.
There are a few things to keep in mind when finding the best concrete cleaning machine, this will help you get the best deal you can, and get the right machine for the jobs.
Keep This In Mind When Finding The Best Concrete Cleaning Machines
Will the machine get in close to edges and other awkward places?
Do you need a ride on concrete cleaning machine or a walk behind?
Are you removing stains from concrete as well as dirt? You may need help with some stain-removing products.
Are you needing a pro/industrial machine or a home owners machine? the difference can be thousands.
Cleaning the machine. Is the machine easy to clean and hose down? this can save huge amounts of time if the concrete cleaning machine is user-friendly.
Check the pressure rating and see if you have the correct pressure blaster to run the machine. Commercial ride-on concrete cleaners normally have the pressure blaster in built into the unit.
Hoses, plugs, and parts should be easily attainable.
Storage and safekeeping.
Make sure the unit will fit in or on your method of transportation.
Let Us Know How You Get On!
We would love to hear your experiences with any kind of concrete cleaning machine, or commercial concrete cleaning machines.
If you are in the concrete cleaning business and would like to share some advice or stories we would love to know.
For anyone just starting out, I wish you all the best and I hope this blog has further helped you get the best concrete cleaning machine you can find.
Just as always, any comments or questions, please do feel free to leave them bellow and I will be sure to read and or reply.