Finding the right stamps for concrete is a big deal when it comes to getting the right design, style, and overall look for your concrete project.
The power of the internet has made buying stamps for concrete easy, and we now have hundreds of designs to choose from.
Stamped concrete is a great way to upmarket any concrete project and stamps can be used over and over again making concrete stamps a great asset to any concrete enthusiast.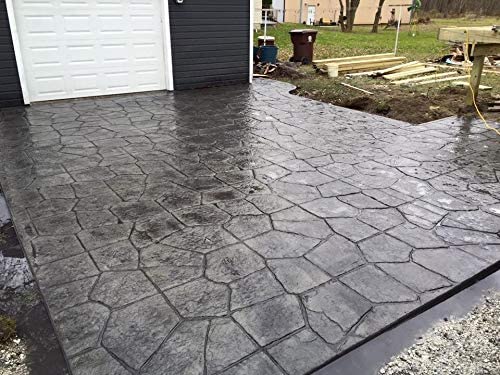 Concrete stamps can take any plain concrete project and bring it to the next level by enhancing the surface with a chosen design.
Concrete stamps are most often used to create decorative walkways, courtyards, patios, decks, and on decorative vertical concrete applications like pillars, garden walls, archways etc.
The process of stamping concrete is not a tricky one, but there is a process in doing so, and for the best quality finish it is recommended to watch some demonstration videos first, or ask an experienced concrete placer who is educated in stamped concrete.
Types Of Stamps For Concrete
Stamps for concrete come in a few different forms. This is because many concrete projects require different moldable aspects to suit the shape and style of the concrete project.
Most types of concrete stamps can be reused multiple times and in some cases, used on a regular basis concrete stamps can still last 10 – 15 years.
Here are 3 of the more popular concrete stamp types.
What Are Stamps For Concrete Made Of?
Over the years concrete stamps have become more durable, more intricate, and more available than ever before.
Most modern concrete stamps are made of polyurethane or a ratio of urethane rubbers, but older "cookie-cutter" style stamps were made of various metals.
The main issue with the old-style stamps is that they lacked the capabilities of forming natural stone textures or other more detailed life-like designs.
Once polyurethane hit the market, people's ideas came to life, and stamps for concrete started evolving into ideas of art, business, and what can be achieved overall with concrete stamps.
 "as an Amazon Associate, I may earn from qualified purchases"
Rotational Concrete Stamps
One of the more common stamps for concrete is the rotational concrete stamp design.
Simple to use, this concrete stamp design has been around since before I started my concrete journey almost 20 years ago.
The simple yet effective rotational design means each individual piece will lock into the next, making perfect pattern imprints as you stamp your concrete.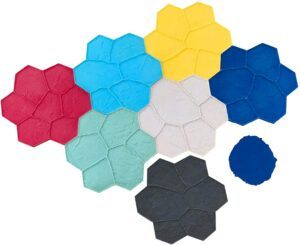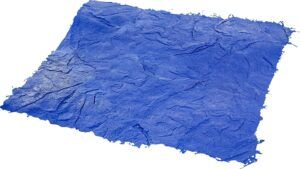 Seamless Concrete Stamps
Seamless concrete stamps are perfect for lighter textured finishes with the flexibility of no seams.
These stamps for concrete can be adjusted to suit angles, edges, and curves and leave no apparent seam of where the stamp has been.
Roller Concrete Stamps
Roller stamp designs are an asset to any concreter's collection of tools.
Seamless concrete stamp rollers are great for small to medium jobs, and if you have ever painted before you may just be the right person for the job.
Made to fit most paint roller handles, the roller design is ideal for the DIY concrete placer or the most experienced concrete placers.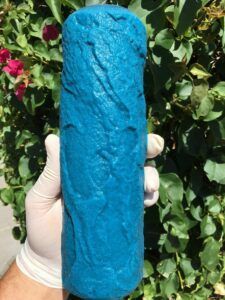 Stamps For Concrete Patterns
People are getting very creative with concrete stamp designs.
Mixing designs, picture framing ( Bordering ) Realistic scenes.
There are now hundreds if not thousands of different stamps for concrete and finding the right one can be hard to select. 
Below is a selection of concrete stamp designs that may just give you a good head start in finding the best style, and look for your concrete.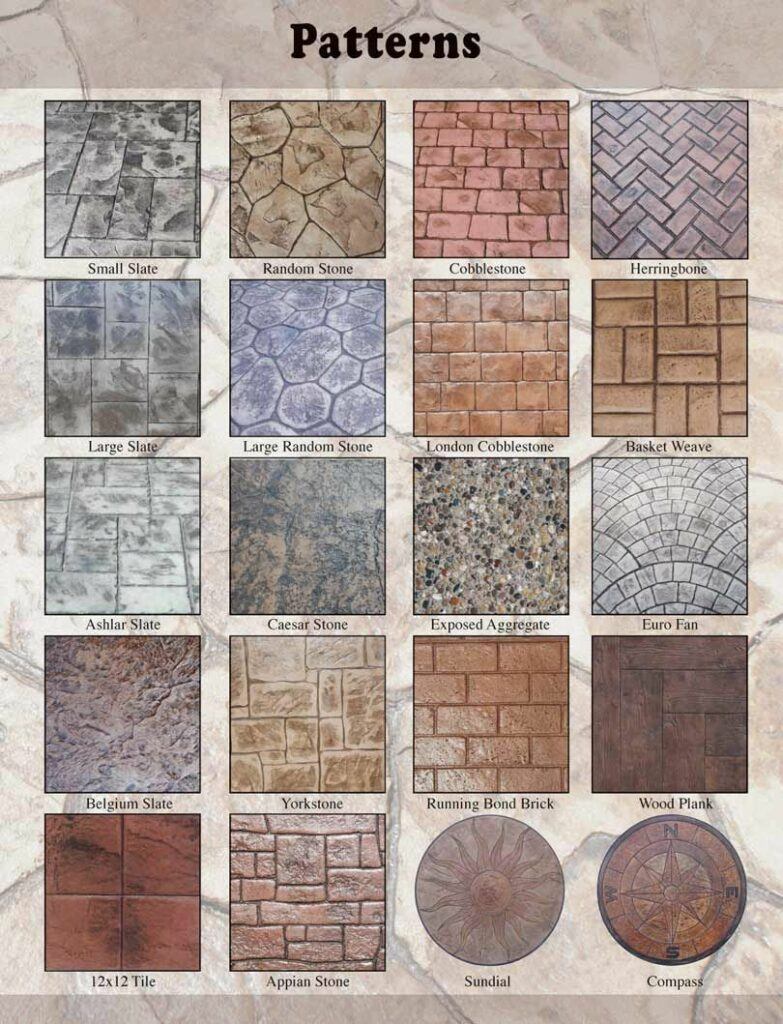 Where To Buy Stamps For Concrete
Buying stamps for concrete is as easy as jumping online and finding an outlet.
I recommend Amazon.com as they have many different types of concrete stamps and a good selection of the most popular designs.
Amazon is a competitive marketplace meaning prices are competitive and finding the right design at the best price is highly likely.
The best stamps for concrete are and should be durable, leave a good imprint or pattern, and should suit the job specifically to what it is designed for.
In most cases, rotational concrete stamps are used by standing on top of the stamp to imprint the design, whereas handheld concrete stamps are designed to be used with less pressure or force, and by your hands.
Roller stamps for concrete are great for small to medium jobs but I would not recommend them for use on larger concrete projects. 
Rotational concrete stamps are great for larger concrete areas and are easy to understand and use.
Learning how to use stamps for concrete can take some time so if you are not experienced in this, be sure to seek directions before hand.
Overall the best stamps for concrete are usually the most popular. 
Taking Care Of Your Concrete Stamps
Taking care of your concrete stamps is crucial in getting the most out of them.
Stamps for concrete can last for years if stored correctly and in the right conditions, and doing so is not very hard, however their is a few basics that will help your stamps last the time.
Tips To Make Your Concrete Stamps Last Longer
Remain out of direct sunlight – The suns UV rays can break down certain materials, more specifically the straps on the back of some concrete stamp designs. Store in a cool dry place away from harsh UV rays.
Store correctly – Never store your stamps for concrete in bent positions. Always store flat and stacked in piles.
Some concrete stamps don't like getting wet too much, you can use a hard bristle and some elbow grease to dry clean.
Always wash or dry wash your concrete stamps after each concrete project.