Today we will look at different types of concrete drill bits to identify which concrete drills work the best and last the longest.
Drilling through concrete is hard on gear, tough on the ears, and can be very strenuous on the wrists and other parts of the body, needless to say, the faster we can drill holes in concrete the better.
 "as an Amazon Associate, I may earn from qualified purchases"
Each of these four concrete drill bit brands ranks the highest in sales and customer reviews on Amazon.com
They are made strong, made to last, and definitely the right drill bits for drilling into any kind of concrete.
The 4 Best Concrete Drill Bits
1 – DEWALT Masonry Drill Bit Set, Percussion, Concrete & Block, 7-Piece Concrete Drill Bit Set.
Product Details
2 cutter carbide tip of masonry drill bit set maximizes carbide surface contact for longer bit life.

Four flute design cleans debris out for fast, efficient drilling

Three flats on shank eliminate bit slipping in chuck (except DW5232, DW5233, DW5237, DW5238)

Rock carbide tip maximizes carbide surface contact for longer bit life

Four-flute design cleans debris out for fast, efficient drilling

Three flats on the shank eliminates the drill bit slipping in the chuck

For use with electric or cordless hammer drills

Ideal for drilling holes in brick, block, concrete, and masonry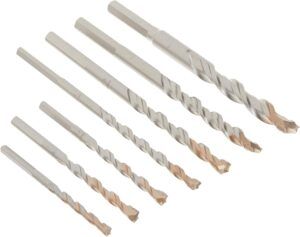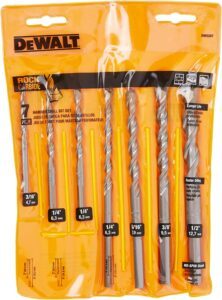 2 -COMOWARE Concrete Drill Bit -7pcs Masonry Drill Bit Set Carbon Steel Carbide Tip 
Product Details
DURABLE & INDUSTRIAL GRADE MATERIAL, Masonry Drill Bits Set. High quality carbon steel after heat treatment. Strong and Durable. Excellent rust resistance.

UPGRADED DESIGN: Two Flute, ensure fast and efficiently remove drilling dust and debris. Rock carbide tip maximizes carbide surface contact for longer bit life.The spiral shank increase cutting speed and prevents slipping.

SANDBLASTING TREATMENT: It enhances rust protection property through adopting special overall sandblasting treatment.

WIDELY USE: Suitable for Brick, Block, Masonry, Concrete, Rock, Ceramic Tile, Cement and Artificial Stone, Wood, Plastic and much more.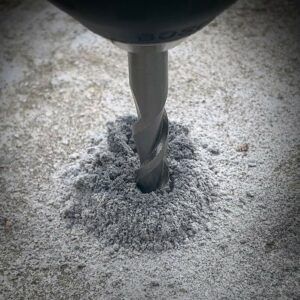 3 – BOSCH 7 Piece Carbide-Tipped SDS-plus Rotary Hammer Drill Bit Set with Storage Case
Product Details
INNOVATIVE: The Bosch HCK001 Drill Bit Set features optimized 4-flute design to reduce bit stress when drilling and for faster dust removal.

FOR USE: Use with SDS-Plus rotary hammers, delivering optimal hole geometry in a variery of applications including concrete, brick, block and more

VERSATILE: Ideal for anchoring and through-hole applications in concrete

LONGEVITY: Carbide tip is tougher and more durable under heavy loads

PORTABLE: The included rugged storage case allows for easy access, organizing and portability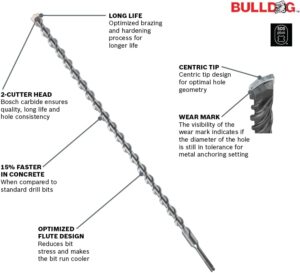 4 –

Sabre Tools 10-Pack 1/4 Inch x 6 Inch SDS Plus Rotary Hammer Drill Bits, Carbide Tipped for Brick, Stone, and Concrete
Product Details
High quality SDS masonry hammer drill bits designed to work in masonry applications; brick, stone, concrete, and block.

Compatible with all SDS Plus sized rotary hammer drills; Bosch, DeWalt, Hitachi, Hilti, Makita, Milwaukee, etc.

SDS hammer drill bit feature 2-flute self-centering carbide tip ensuring fast cut speeds and MAXIMUM life

Extended life – our concrete bits optimized design allows the material to quickly exit the hole while allowing the concrete hammer drill bit to remain cool.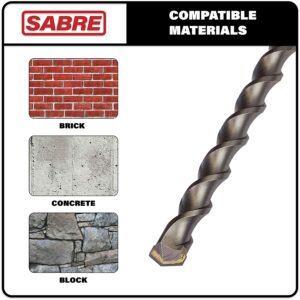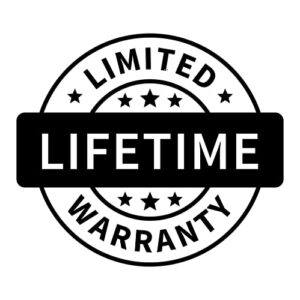 The Bosch Bulldog Extreme ranks one of the highest on Amazon and has thousands of customer review ratings.
If you are in need of a concrete drill the Bosch Bulldog Extreme is highly recommended.
Get a fast, long-lasting rotary hammer with the BOSCH bulldog extreme 1-inch Rotary hammer.
It features a multi-function selector that quickly shifts between rotation-only, rotary hammer and hammer-only modes for optimal versatility.
It also has a variable speed reversing trigger for accurate bit starts and simple removal of fasteners and bound bits.
Bosch Bulldog Extreme concrete drill product details
3 MODES:

multi-function selector offers 3 modes of operation; Rotation-only, rotary hammer, and hammer-only mode; Variable speed trigger with reverse offers accurate bit starting or easy fastener removing

EASE OF USE

:

vibration control for comfort in all-day applications

ERGONOMIC:

D-handle design provides comfort and optimal control, especially for overhead or downward drilling applications

CONVENIENT:

SDS-plus bit system provides tool-free bit changes with automatic bit locking, dust protection, and maximum impact energy transfer; Vario lock positioning offers 36-bit positions for optimized chiseling angle

POWER:

7.5 amp motor produces 0.1,300 RPM and 0.5,800 BPM to power through the toughest applications; delivers 2.0 feet /pounds of impact energy for maximum performance

INCLUDES:

rotary hammer, (1) auxiliary handle, (1) depth gauge, and a carrying case
The Dewalt Masonry drill bit set is the clear winner when it comes to the most sales, glowing average customer review ratings, and value for money.
Perfect for drilling holes in brick, block, concrete, and masonry, if you want holes drilled, this is the set.
Why Choosing The Best Concrete Drill Bits Matters
When it comes to drilling holes in concrete, you do not want to be down there for ages, especially when you have four or five hundred to do.
The quality of the brill bits plays a massive part in the overall time it will take to drill them.
Many low-quality concrete drill bits will wear very quickly and hammering in starter rods will soon get harder and harder as well.
This is because the drill bit is wearing out and becoming narrower, in other words, if I was drilling 10mm holes after lots of use the drill will be worn down to 9.5mm then 9mm, and then chances are you will not be drilling at any fast-pace as the drill piece will be blunt, worn, and overheated.