Using a bull float during the concrete process can have a huge advantage in the overall concrete placing process, and can help you and your concrete out in a number of ways.
Helps flatten any small humps or dips after screeding
Seals the top layer and prevents water or moisture soaking back into the concrete
 Helps expel any excess bleed water
Helps remove air from the concrete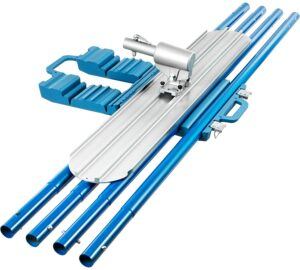 "as an Amazon Associate, I may earn from qualified purchases"
What Is The Best bull float?
There is always a personal favorite and mine is the Ox pro series, Light, Easy, and I prefer the rock-it tilt rig which allows for easy push pull action by twisting the pole.
Here are some of the top rated and most popular bull floats available online from Amazon.com
"as an Amazon Associate I may earn from qualified purchases"

OX TOOLS Pro Series Aluminum Concrete Bull Float