With almost 15 years in the concrete placing and finishing industry, I will share with you my advice on how to start a concrete business and mention some of the pros and cons that come with the trade.
Starting a concrete business should be a fun and exciting time, and to make sure you don't run into any problems along the way, it really does pay to do some research on how to start a concrete business.
There are many things to consider when starting and running your concrete business, and if you do not, you may just find yourself and your new concrete business heading for a world of stress, and an end result of closing the business.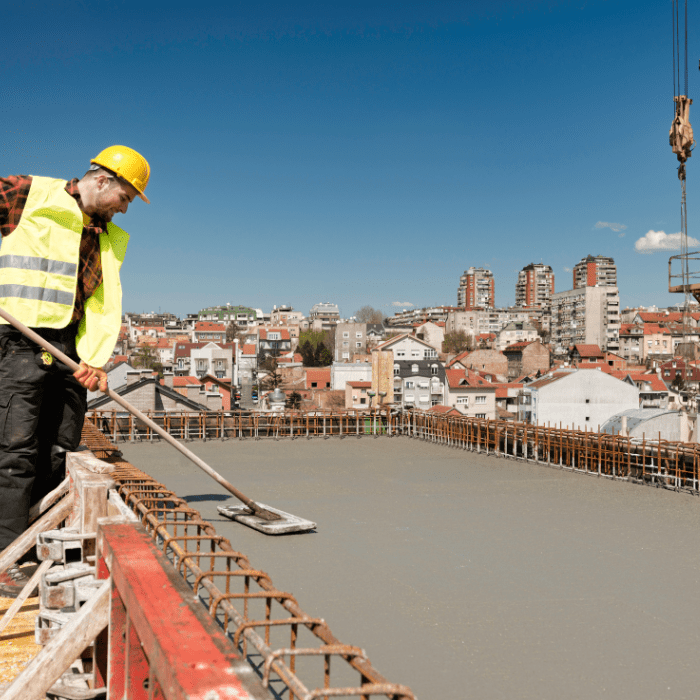 Why Start A Concrete Business
If you have worked with concrete for any length of time you may be ready to go out on your own and start your very own concrete business.
There can be huge benefits for running your own concrete placing and finishing business. 
All the tools, all the gear, huge profits, something to be proud of…
These are all huge motivational steps in wanting to start your own concrete business and by all accounts, I say go for it!
However, there are many aspects of a concrete business that many people overlook, and this can equate to thousands being filtered out in wages, materials, fixing faults, or doing extras for people at the last minute.
In this article, I will explain how to start a concrete business, what to expect when you start, the gear and tools you will need, and some extra things to think about in making your concrete business safe and legal, and covered.
First Steps To Start A Concrete Business
Since you are here I am assuming you have worked with concrete before, or have a team of placers in mind, if not you will need to find experienced concrete placers and finishers.
If you are getting into concrete for the first time, I would recommend finding a mentor, or someone to go and help for a few months first.
Ideally, you will have more than 3 or 4 years placing and finishing concrete floors and pads of all kinds to gain the relative experience needed.
First Steps In Starting A Concrete Business
This is a prestart list of things to think about and get sorted before launching your concrete business.
1 – Think of and design your company name and logo. You can pay someone to do this if you cannot do this yourself.
2 – Types of concrete jobs you will be doing. This is very important as things can very quickly blow out of control and biting off more than you can chew can end up in disaster.
3 – Tools, vehicles, and funding. If you do not have the tool you need to start a concrete business you will need to sort this. There is a basic start-up checklist on the home page of this website you can view to help with this.
You will need transport for your gear, you and the staff if you have any.  If you need to get this still, I would recommend doing your first few smaller jobs with the help of someone to get the coin to go and buy one. Not ideal, but if worked right, two or three good-paying jobs may get you enough to get your transport sorted…
Tools can get expensive, but you can start off with all the basics for about $1000, this can grow quickly if you include a power trowel. If you are handy with a trowel and a set of kneeboards you can get going with these, and still finish most jobs to a high standard. ( Smooth finishes )
4 – Insurance and liability cover. If for one reason or another your jobs don't go as planned, you will NEED liability or job protection cover. 
The last thing you need is to place a driveway that gets damaged by frost, or cracks in too much heat, and you have to pay to first break it out and take it away, and then pay to redo the concrete. 
Now hopefully you will never have this happen, but I have seen many reasons, excuses, and instances over 15 years of things that can go wrong. 
In the end, almost all jobs should be a winner, and this will come with experience.
5 – Office/depot or headquarters. Where are you going to be based from? Gear, materials like boxing, pegs, shudders, mesh and reinforcing rods, etc, take up a lot of space, just be prepared for expansion.
6 – Bookkeeping, wages, financial forecast. In most cases, I would recommend getting an accountant. You will have enough on your plate and this is one huge area you will not have to worry or stress about. 
Keep track of your financial forecast so as to further understand where your money is being spent, and how you can get more out of your business.
7 – Advertising your new concrete business. This is only if you are prepared for an increase in work. If you are just starting out I would suggest trying to sort a few jobs by asking around personally, and by general word of mouth. People talk! and if your work is tidy, accurate, and professional, this will almost always bring in an even flow of work.
8 – Have Fun and grow. If you were anything like the company I worked for, the 3 of us quickly became 22, in a matter of months. There is so much workaround for everyone and if your standard of quality is high, you will get work…Trust me!.
If you work your business right and spend your profit growing your business ( To a point ) you will realize the potential a concrete placing and finishing business can have, 
Company Name, Logo & Website
Thinking of and finding a company name can be tricky business, but there are a few online tools I use for my online affiliate marketing business that can help you find company names and furthermore the domain name for your company.
A domain name is a website your concrete business will use, you can buy these for about $15 – $50 per year. Normally it will be the same as your company's business.
To find names I use I go to Godaddy.com
Fiverr is an online platform where you can hire people to make and do almost anything you cannot. Get your logos and style made by a pro!
Jobs start from as little as $5 which is great. 
TIP: Be specific when explaining what you are wanting, and add images or links to other websites you may want to mimic the design from.
The Types Of Concrete Jobs For Your Business
We cannot take on all work that we get asked to do, especially if it's way out of our size, comfort zone, location, or area of expertise.
When getting into the advertising of any kind it's important to inform people of what you can do for them.
If you have yourself and 1 or 2 workers I would stick to smaller more manageable size jobs like house floors, small sheds, pathways and patios, driveways, etc, and get known for doing these first.
As your business grows, so will your gear, staff, and the size of jobs you can take on. You will also gain further knowledge in the concrete placing and finishing field which will in turn mean you can handle larger jobs.
Concrete Tools, Vehicles, And Funding
Starting a concrete business does not need to be an expensive process, well not extremely expensive depending on what you can utilize, and your skills. and your network.
If you are lucky enough to start with a van, getting the basic tools to do most concrete work can be done for under $10,000, in fact, one can start a concrete business for under $5,000
If you are handy on a trowel and knee boards, you can take this amount down to about the $2000 mark, with a little left over.