Concrete work boots for working in concrete are a must if you want to protect your feet, and be in comfort while you place and finish your concrete project.
I have spent many 18-hour+ days in concrete work boots and I know the importance of having the right size gumboot for your feet, the right inner souls, and made of quality rubber.
What To Look For In Concrete Work Boots
Concrete work boots need to be tough and hold up against the toughest of concrete brews and stand the test of time.
Flexible, tough, waterproof, and suited for concrete placing.
For concrete finishing, there are shoes for working on concrete that is more suited for "out of concrete work.
These boots should have a good padded and nonslip sole, and be waterproof.
So which boots win their place as the best concrete work boots…
Let's find out…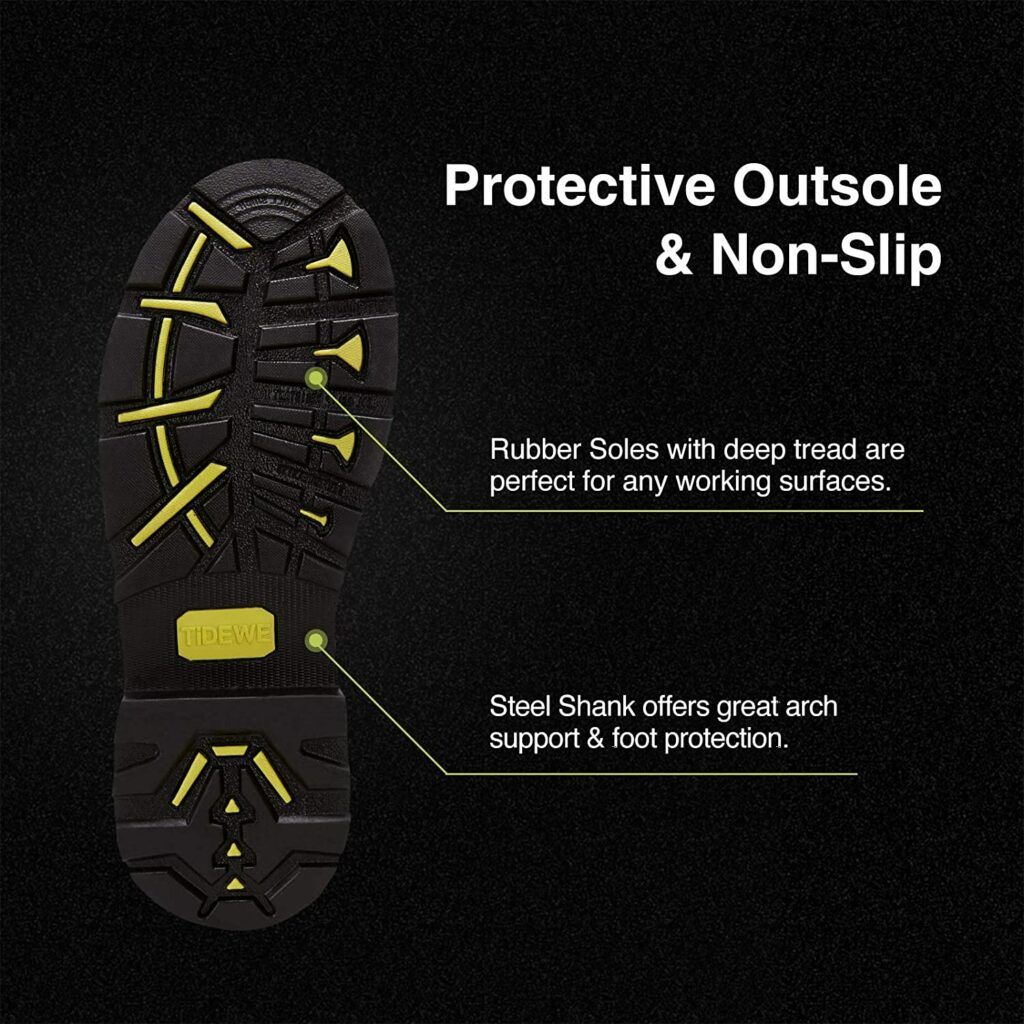 "As an Amazon affiliate I may earn from qualifying purchases"
Finding The Best Concrete Work Boots
Amazon.com stocks thousands of brands in the work boots niche, however many of these brands have not received many good customer reviews and are not worth the money.
This list of concrete work boots is great for concrete placing and really hit the nail home when it comes to quality, comfortability, safety, and practicality.
Arctic Shield Waterproof Durable Rubber Neoprene Concrete Work Boots
Artic Shied concrete work boots are made with grip, comfort, and durability in mind. These boots are extremely durable and pass the ASTM steel toe certification standard.
About this product
Made fr

om strong but flexible neoprene.

Waterproof

Removable insoles
Rubber sole
Calf high length
Warm and comfortable.
If you like the look of these Arctic shield concrete work boots you can find out more on Amazon by clicking the button below
TIDEWE Rubber Work Boots for Men with Steel Shank, Waterproof Anti Slip Sole
The Tidewe concrete work boots have been designed with airflow and breathability in focus. The boot has been designed with a "kick-off tab" making it easy to take your boots off even when they are caked in mud, concrete, or clay.
These soft-toe work boots are extremely popular and are a great choice for a wide range of work activities
About these boots
Breathable and warm
Easy to kick off tab feature
Added toe and heal protection
Durable
Extremely water proof
DUNLOP protective concrete work boots - Safety Steel Toe, 100% Waterproof PVC
With over 10,000 customer reviews and an exceptional average customer review star rating, these Dunlop concrete work boots are without a doubt the most popular and versitile boot of them all.
Information on this boot
ASTM F2413-11 certified steel toe

100% Waterproof

Made in the USA

Lightweight modern design 25% lighter than classic PVC boots

Energy absorbing BAY-LOC outsole with channels to repel water
Looking After Your Concrete Work Boots
By looking after your work boots you will prolong their lifespan and get more out of your money. 
We can do this by getting into a few healthy habits when it comes to keeping them clean and stored in the correct place.
How to look after your work boots
Hose them down after each concrete pour.
Don't leave them in direct sunlight
Store in a dry place
Why Get Concrete Work Boots
Now I know there are many other brands and some of them are absolutely fine for working in concrete.
The mentioned concrete work boots here are just a select few of the best and most popular concrete work boots available to you online.
I will continue to add more popular work boots to this page in the hope to get a better selection of top-quality, comfy, and safe concrete work boots for you.
Knowing What Size Work Boot You Are
Finding the correct work boot size is a must and wearing the wrong size gumboot can bring you a world of pain.
Chafing, blisters, constantly pulling up your sox, these are all signs of not using the right sized footwear.
Many boots on Amazon show a size reference chart that you can look at, read, and then make the decision on what size you are.
Here is the chart from the Tidewe brand boot so you have an example to look at.
As you can see by the diagram measuring your foot and then getting a slightly larger size allows for a little foot room and room to have sox on, which is a must.
Well, that's all today team, I hope this article on concrete work boots has helped you narrow down your next pair of boots.
I would also love to hear your experience with certain concrete boots, so if you have one please do leave it in the comments below and I will be sure to read and/or reply.