Knowing how to clean a concrete driveway properly can completely change the appearance and presentation of your concrete, and will also make your concrete safer by removing slippery mold and mildew.
Dirty driveways can become dangerously slippery, and once a layer of dirt, oils, and other contaminants bond to the surface of your concrete erosion can begin, breaking down and wrecking the surface of your concrete.
Here are 4 ways to clean a concrete driveway
Water Blast
Broom and brush scrub
Wet and forget
Acid wash ( Hydrochloric Acid )
How To Clean A Concrete Driveway With A Water Blaster
To start cleaning your concrete driveway with a water blaster, you will first need to prep your drive so there are no obstacles in the way, shift everything off the driveway.
Be mindful of any cars or other vehicles, house walls and sheds etc, as the grime from the drive will travel some distance and land on whatever is close by.
Spraying close by buildings or cars with water first helps dirt and grime wash off easy once you are done cleaning the driveway.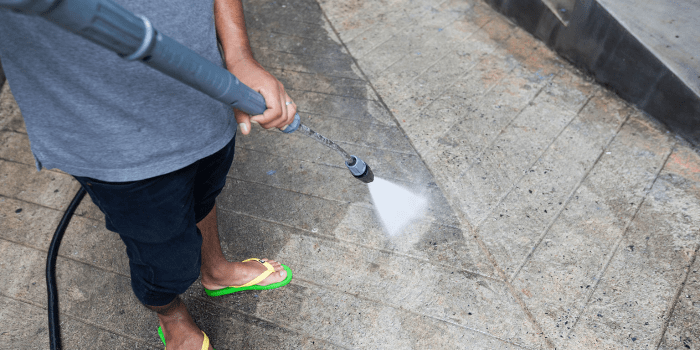 How To Clean A Driveway With A Water Blaster
Prep driveway
Ready the water blaster with fuel/power and plug in the water hose
Safety gear including glasses and ear muffs.
Working from one end of the drive to the other, start the water blaster and make sure you have the fan spraying tip on the water blaster gun. Having a sharp point spraying tip will penetrate the concrete and blow out stones and other bits of the drive, always use the fan tip.
With the water blaster, long swipes are the best and fastest way to clean your driveway. Divide the drive into small patches and focus on one patch at a time.
Repeat the process two or three times.
How To Clean A Concrete Driveway With A Broom & Brush
Good old fashond elbow grease. 
Hot soapy water and a good scrub with a broom and/or brush, work a treat, however, it will require a lot more effort for an average result.
Dishwashing liquid and a bucket of boiling water (Or a few) can be found in almost every home and is a very cheap way of sprucing up your driveway.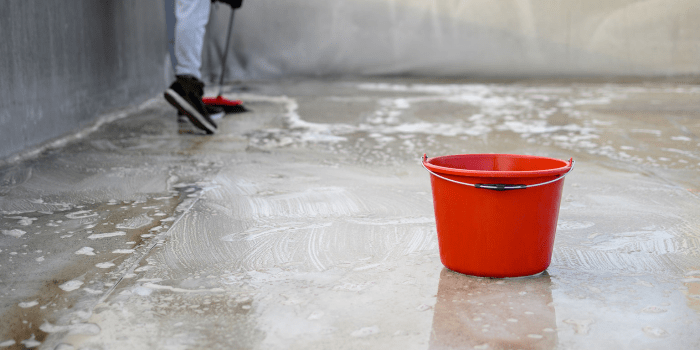 How To Clean A Concrete Driveway With A Broom Or Brush
Ready your driveway so there are no obstacles remaining on it.
Get brooms and brushes ready. Hard bristle brooms are better than soft bristle brooms as they help scratch the dirt off faster.
Fill a few buckets of hot or boiling water and add a little dishwashing liquid.
Starting at one end of the drive pour the water onto the drive and then scrub your heart out.
Continue this over the whole drive.
broom again with plain hot or boiling water to remove any excess dishwashing liquid or dirt residue.
How To Clean A Concrete Drive With Wet And Forget
A very popular way to clean your own concrete driveway is with "Wet and Forget.
This product has proven very successful and is available to everyone worldwide from Amazon.
About this item
Wet & Forget Ready To Use Outdoor Cleaner comes with a high-capacity trigger sprayer for quick application to smaller surfaces; removes green and black stains caused by moss, mold, mildew, and algae, no scrubbing, no rinsing, no pressure washing, just wet it and forget it on multiple surfaces including, porch steps, headstones, fountains, planters, concrete, canvas, and upholstery
How To Clean A Concrete With Wet And Forget
Buy Wet And Forget Stain Remover
Prep your driveway and remove any obstacles that may restrict you from spraying Wet And Forget.
Spray with Wet And Forget
Leave the driveway and let the product work!
How To Clean A Concrete Driveway With Hydrochloric Acid
Cleaning your driveway with hydrochloric acid works best on exposed finished concrete.
Using acids on plain concrete finishes can etch the top layer exposing the stones underneath, this is not ideal and if you have a plain finished driveway I would recommend one of the other methods for cleaning your concrete driveway.
Hydrochloric acid is used in many situations from cleaning driveways to unblocking drains and is another very easily accessible product to all.
In the concrete industry, we use this acid for a few reasons but mainly to eat away the very top layer of concrete on exposed finishes to ensure the stones that are exposed are clean and presented nicely before sealing.
Exposed jobs that are not cleaned will need an acid wash before sealing.
How To Clean A Concrete Driveway With Hydrochloric Acid
Prep your driveway and make sure it is free of obstacles like cars, toys, bikes, etc.
Fill buckets with cold water 
Add hydrochloric acid – SAFETY REQUIRED…Please wear protective gloves and safety glasses. This acid is strong and will burn your skin.
pour a little of the mix straight onto the concrete and use a soft bristle broom to spread it around. The mixture should fizzle and bubble a little when you are brooming it around. If not you could make the mix a little stronger. Off memory, we would use about 2 cups of acid in a 10-liter watering can.
Pour and scrub the mix over the whole driveway and let the acid do its job. 
Wash off after you have finished cleaning the driveway with cold water. this will dilute the acid to a non-harmful ratio.
Below is a short video of an exposed job. This is the wash-off stage, and once it has dried we will do an acid wash, let the concrete dry, and then seal with a concrete sealant.  You will also need a respiratory mask, trust me! this acid is not nice to breathe in.
Helpful Hints On How To Clean A Concrete Driveway
Here are just a few other tips I have learned throughout my years as a concrete placer for cleaning driveways, patios, and other concrete slabs.
Always hose down or wet close by structures or vehicles before and whilst water blasting. The spray from the drive will land on surrounding objects and once they dry, leave behind concrete dust that can stain or stick onto and damage nearby structures or objects.
ACID SAFETY – Always use safety gloves and eyewear when using acids. Always wear a respiratory mask as hydrochloric acid is not nice to breathe in.
When using acid to wash concrete, start with a week mix and make it stronger if you need to. You do not want the acid to eat away too much.
When using a water blaster, use the 45-degree spray head. If you use a straight jet spray you risk the chance of blowing chunks out of the concrete.
Water blasting can be messy, use wet weather gear and some good gumboots.
Well, that's all for today. I hope you enjoyed this blog on how to clean a concrete driveway.