A plate compactor is an electric or motorized tool that compacts ground materials like stones, dirt, asphalt, etc and is vital in achieving the highest quality of workmanship in driveways, house and garage floors, paths, laneways, roads, and anything that needs to rest on a solid foundation.
A plate compactor can also be used to compact lawn, soil, dirt, and sand.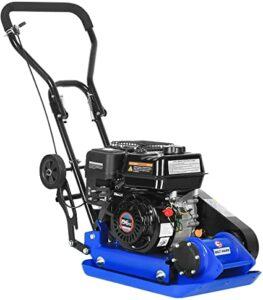 Why Use A Plate Compactor?
Using a plate compactor is easy and a very straightforward process.
By using a plate compactor we can ensure the ground foundation layer is hard, locked in, and will not move, shift, or sink.
Compacting your ground before building on, will minimize the chance of cracks in concrete, shifts in levels, soft spots, and potholes.
If you are placing concrete for any reason, the ground layer must be compacted to ensure the quality and longevity of your concrete.
This will greatly decrease your chances of concrete cracks.
Expansion joints should also be used to prevent the chance of cracking.
 "as an Amazon Associate, I may earn from qualified purchases"
What To Look For When Buying A Plate Compacter
Contrary to what many may think, the weight and motor size of a plate compactor do not mean a better result of compacted ground.
A plate compactor's power is measured in pounds per square inch, and the term used for this is called centrifugal force.
What is centrifugal force?
From Sciencedirect.com…
Centrifugal force is the apparent outward force on a mass when it is rotated.
Think of a ball on the end of a string that is being twirled around, or the outward motion you feel when turning a car at speed. 
In an inertial frame, there is no outward acceleration since the system is not rotating.
Although weight and motor size are important, centrifugal force is of utmost importance.
I have done a small comparison comparing these 4 brands of compactors, and although they are all popular and quality compactors, they don't all share the same qualities.
Plate Compactor Comparison
Compaction force in Lbs per square foot.
The Built Hard plate compactor…6.5HP motor…2500 lbs compaction force.
The 6HP Tomahawk plate compactor…6HP motor…3000 lbs compaction force
The North Star plate compactor…5.5HP motor…3968 lbs compaction force
Tomahawk plate compactor 5.5HP motor…3000 lbs compaction force
The North Star Plate Compactor - 1st Place
Out of the four plate compactors here I would have to recommend the North Star plate compactor.
Great value and great specs, this plate compactor has good reviews and has a customer average review start rating of 4.3 stars. 
About this item
3968 lbs. of compacting force

65–82 feet per minute travel speed

21 1/2in. x 16 5/16in. compacting plate

6400 vibrations per minute

163cc Honda GX160 OHV engine with cast iron cylinder liner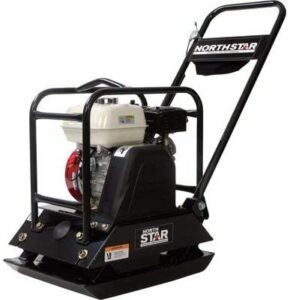 Tips When Using A Plate Compactor
There is not too much to learn when it comes to using a compactor, although there are a few tips that can help.
1– Spray the ground to dampen the material you are compacting. A little amount of water helps the material you are compacting compact, and find its resting spot.
Too much water and the compactor will sink and not vibrate ford.
2 – If you are working next to edges where the ground can break off and/or the compactor can slip into. If we compact about 400mm away from any outside footing edge you will minimize the compactor slipping in or blowing off the edge.
Each time you go around compacting you can then go to 350mm away from the edge, compacting 50mm each time you pass with the compactor. By doing this the majority of the compactor is always sitting on already compacted ground.
By compacting like this you can get compaction closer to any edge without damaging the foundation and/or a compactor
3 – If your foundation needs to be built up more than a height of 200mm it is always advised to compact foundational material in layers of 150mm.
Although you will not notice too much from the look and feel by foot, compacting in layers of 150mm will ensure maximum compaction.
Although a compactor may vary in strength, weight, and power the 150mm rule, is a good rule to follow.
Conclusion To What Is A Plate Compactor?
Overall, a plate compactor is used to harden and compact the ground in order to provide a solid foundation.
The amount of centrifugal force will determine the compaction of your material.
Remember weight and engine size is not everything when it comes to plate compactors, and centrifugal force is more important.