Concrete molds have come a long way in the last decade bringing concrete mold designs of all styles and forms directly to your doorstep for you to use at home.
Using concrete molds is fun, easy to use, reusable, and can be ordered online.
Make your concrete project stand out from the crowd by using concrete molds for pathways, ornaments, garden features, and loads more.
Knowing which concrete molds are quality, and which stores are reliable to order concrete molds from can be the difference between a good or bad finished product.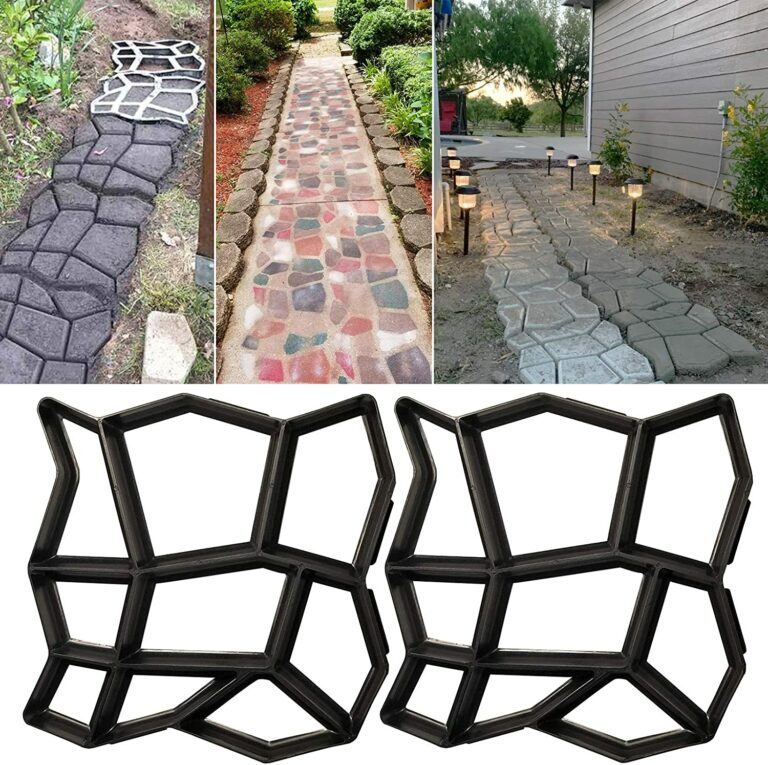 "as an Amazon Associate, I may earn from qualified purchases"
I have worked in the concrete industry for about 15 years and have poured many concrete mold projects.
Weather you are buying your concrete mold or building one yourself, options for concrete silicon molds are almost limitless.
Making concrete silicon molds will require you to buy liquid silicon. This is available online and if this is what you are after you can find these here <<<
Available online from places like Amazon.com, concrete molds come in many forms and with this brings concrete molds forms of all styles and designs.
Types Of Concrete Molds Forms Or Styles
Walkway and path designed concrete molds
Garden wall concrete molds
Pet shaped concrete molds
Flower pot concrete molds
Garden pavement or patio concrete molds
Textured concrete molds
The range of concrete molds available online is massive and selecting which one is right for you can be hard as choices are almost endless.
These concrete molds are made for easy DIY at-home projects and are reusable, so you can use them over and over again.
Some of the most popular walkway concrete molds can be made easily and without any experience at all, just prep your ground, mix your concrete and pour.
These garden walkway designs are perfect for paths or garden walkways and can be joined together for making larger patios or concrete pad areas.
Decorative Concrete Molds
Decorative concrete molds can completely transform any area. From decorative garden walkways to decorative concrete figures and planter pots.
Designs are endless.
Decorative concrete molds are perfect for the at-home DIY enthusiast, which means you don't get the expensive labor cost of hiring someone else to do it.
Small Planter Pot Concrete Molds
Everyone loves household plants or small feature plants that add a taste of nature to the room.
Attaining small concrete molds from online stores like Amazon is easy and can bring loads of fun and creativity to the household.
Here are just a few small planter pot concrete molds that are available online.
Small Simple Molds Are Easier To Use
Simple silicon-designed concrete molds are easy to use and easier to clean and prepare for the next use.
Silicon concrete molds that are more intricate are harder to take out of the mold.
Smaller molds with flat sides, that are not too tall work best.
Paver molds like the one in the image below, work best on hard even surfaces.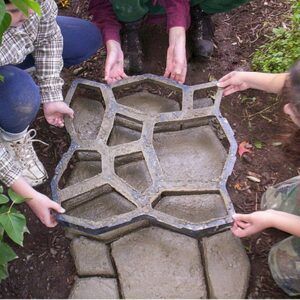 Preparation before Pouring Your Concrete Molds
When getting ready to pour your concrete project, make sure you have plenty of space and a few rags on hand.
Concrete work can get messy!
Prepping for concrete
Have tools and pouring equipment on hand ready to go. Best Value toolkit here >>> ( The Marshalltown Concrete Toolkit )
Make sure you have plenty of room for mixing your concrete.
Always work on a tarpaulin, or outside where you can make a mess.
Have a rag or two on hand for wiping off excess concrete
Have something ready to put the concrete mold onto when ready to leave and cure.
Wear gloves if you are concerned with the cement on your skin
and a mask so you do not breathe in cement.
Happy concrete molding, and please do feel free to leave a comment or question below, and I will be sure to read and/or reply.